P 产品展厅 RODUCTS
食品级PFA Teflon 440HPB 440HPB X
价格: ¥450/千克
发布日期: 2022-09-28
更新日期: 2023-12-08
| | |
| --- | --- |
| 品牌 | PFA 440HPB |
| 货号 | 200 |
| 牌号 | PFA 440HPB |
| 型号 | PFA 440HPB |
| 品名 | 氟塑料 |
| 外形尺寸 | 100 |
| 产品用途 | 配件 |
| 生产企业 | PFA 440HPB |
| 是否进口 | 否 |
食品级PFA Teflon 440HPB 440HPB X
For inventory control purposes product name may be followed by an X.
Products labeled PFA 440HPB and PFA 440HPB X are equivalent and all information in this document is applicable to both.
Typical Application
Applications for DuPont™ Teflon ® PFA 440HPB include fluid handling components for critical, high-purity processes like semiconductor, pharmaceutical, and biotechnology, as well as applications where purity in the parts-per-billion range is needed. Teflon ® PFA 440HPB offers a slightly lower melt flow rate than Teflon ® PFA 440HPA, ultimately providing a higher degree of stress-crack resistance.
Description
DuPont™ Teflon ® PFA 440HPB is a special purpose fluoroplastic resin available in pellet form. This resin is a chemically modified form of Teflon ® PFA 340 that combines many of the benefits of the parent resin (a relatively high typical melt flow rate of 14) with several additional benefits including enhanced purity, improved thermal stability while processing, and chemical inertness; for example, to ozonated fluids. Table 1 shows the typical property data for Teflon ® PFA 440HPB.
Teflon ® PFA 440HPB is a premium resin with the lowest level of extractables designed to meet ultra-high purity requirements. Teflon ® PFA 440HPB has a relatively high melt flow rate for injection molding and extrusion processes, and the highest level of inertness due to stable end group polymer structure. The enhanced purity of Teflon ® PFA 440HPB makes it suitable for applications that require improved color, lower extractable fluorides, and freedom from other foreign materials. This product contains no additives and is designed for hostile chemical environments where purity in the parts-per-billion range is needed. Examples are in semiconductor manufacture, fluid handling systems for industry or life sciences, and instrumentation for precise measurements of fluid systems. Compared to other thermoplastics, the high melt strength and thermal stability of Teflon ® PFA 440HPB can be used to improve processing rates, combining the processing ease of conventional thermoplastics with many properties similar to those of polytetrafluoroethylene.
Properly processed products made from neat Teflon ® PFA 440HPB resin provide the superior properties characteristic of fluoroplastic resins: chemical inertness, exceptional dielectric properties, heat resistance, toughness and flexibility, low coefficient of friction, non-stick characteristics, negligible moisture absorption, low flammability, performance at temperature extremes, and excellent weather resistance.
In a flame situation, products of Teflon ® PFA 440HPB resist ignition and do not promote flame spread. When ignited by flame from other sources, their contribution of heat is very small and added at a slow rate with very little smoke.
Teflon ® PFA 440HPB meets the requirements of ASTM D3307, Type I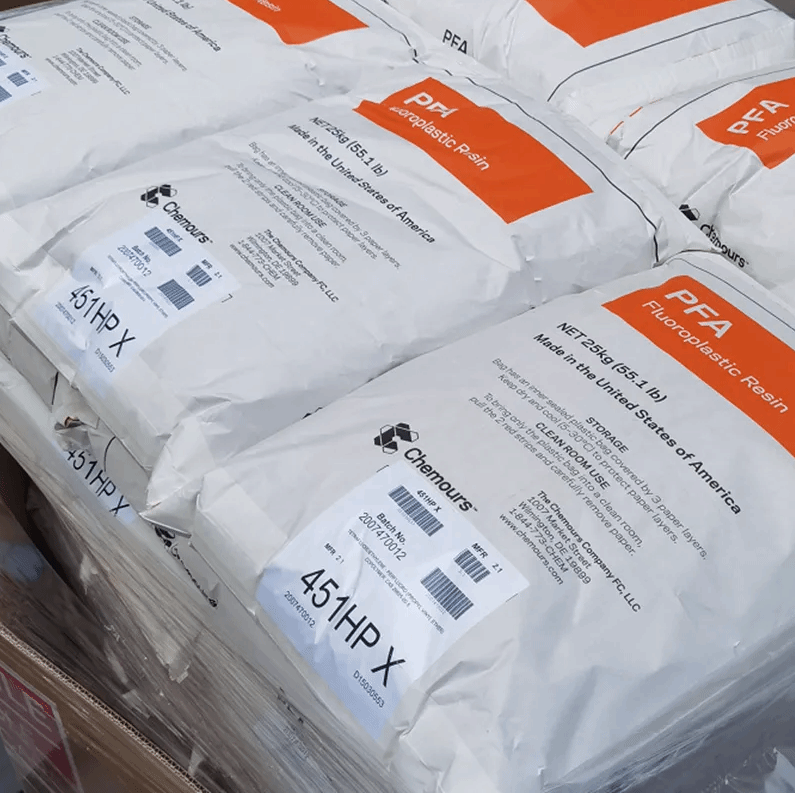 PFA是英文Polyfluoroalkoxy的缩写,中文名称叫做可溶性聚四氟乙烯。PFA塑料为少量全氟丙基全氟乙烯基醚与聚四氟乙烯的共聚物。熔融粘结性增强,溶体粘度下降,而性能与聚四氟乙烯相比无变化。
Pfa管道就是pfa树脂加工而成的管子。以丹凯为例,丹凯可生产规格,内径0.5mm到内径200mm,壁厚0.12mm到3mm。
PTFE和PFA的区别
4.1、性能不同
1、PFA
为少量全氟丙基全氟乙烯基醚与聚四氟乙烯的共聚物。熔融粘结性增强,溶体粘度下降,而性能与聚四氟乙烯相比无变化。此种树脂可以直接采用普通热塑性成型方法加工成制品。
2、PTFE
聚四氟乙烯(F4,PTFE)具有一系列优良的使用性能:耐高温—长期使用温度200~260度,耐低温—在-100度时仍柔软;耐腐蚀—能耐王水和一切有机溶剂。耐气候—塑料中 的老化寿命;高润滑—具有塑料中最小的摩擦系数(0.04);不黏性—具有固体材料中最小的表面张力而不粘附任何物质;无毒害—具有生理惰性;优异的电气性能,是理想的C级绝缘材料。
4.2用途不同
1、PTFE
PTFE独特的性能使其在化工、石油、纺织、食品、造纸、医学、电子和机械等工业和海洋作业领域都有着广泛的应用。
2、PFA
PFA塑料为少量全氟丙基全氟乙烯基醚与聚四氟乙烯的共聚物。熔融粘结性增强,溶体粘度下降,而性能与聚四氟乙烯相比无变化。
此种树脂可以直接采用普通热塑性成型方法加工成制品。
PFA 的主要性能
耐高低温:-200度到260度;
易加工性:能翻边,焊接;
耐老化性;
高透明性;
耐腐蚀性。
Pfa管主要用途
1、适于制作耐腐蚀件,减磨耐磨件、密封件、绝缘件和医疗器械零件。
2、高温电线、电缆绝缘层,防腐设备、密封材料、泵阀衬套,和化学容器。
3、半导体制造装置,热交换器,蒸汽配管,腐蚀性介质输送管,电线电缆护套,槽绝缘管,全包氟塑O型密封圈用管。